The Ralph C. Hon Society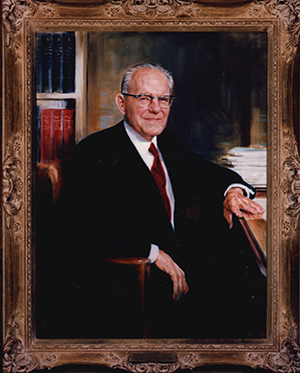 During his more than forty years at Rhodes College, Dr. Ralph C. Hon made a profound and lasting impact on both his students and fellow faculty. The son of a fireman for the Frisco railroad, Dr. Hon came from humble beginnings which no doubt accounted for his strength of character and intense determination. At age 16, he nearly lost his life to a bone infection which resulted in the amputation of his left leg. Hon persevered, learning to walk again with the help of a cane and a prosthetic leg. He went on to finish high school and college, and earned a master's degree at Harvard and a Ph.D. at the University of North Carolina.

In 1931, Dr. Hon joined the faculty of Southwestern under President Charles E. Diehl, and shortly thereafter put together a proposal for President Diehl suggesting the college set aside funds in order to offer more merit-based scholarships to attract exceptional students. This plan became the basis for Rhodes' merit scholarship program which was implemented in 1941. President Diehl made Dr. Hon the chief recruiter for the college, and he served this position passionately. Dr. Hon interviewed students as early as ninth grade and followed their progress throughout high school. Once the students came to Rhodes, Dr. Hon became their personal mentor for academics, along with helping them find jobs or internships if they had unmet financial need. Dr. Hon and his wife Hazel did not have children, but developed close relationships with the scholarship recipients, who became known throughout the campus as "Hon's Kids."

Dr. Hon was a professor of Economics at Rhodes until 1973, and throughout his life he saved and invested, planning for the day when he could personally provide scholarships for deserving students to attend Rhodes. Upon his retirement from Rhodes, Dr. Hon was honored with the Algernon Sydney Sullivan Award in recognition of his leadership and service to the college and Memphis communities. Dr. Hon died on September 1, 1999 at the age of 96, leaving the college almost $10 million which was used to continue the scholarship program in which he so passionately believed. In honor of his legacy, The Ralph C. Hon Society recognizes individuals who make Rhodes a beneficiary of their estate plans, including will provisions, charitable gift annuities, and charitable remainder trusts. The names of each member of the society are listed in the Honor Roll of Donors and on The Ralph C. Hon Society plaque in Southwestern Hall. Like Dr. Hon, members of The Ralph C. Hon Society have shown their dedication to Rhodes and its mission through generous financial commitments which help to ensure the college's continuing success.